Red flowers add a pop of color to any garden. As a symbol of love, courage, and respect, red flowers are guaranteed to brighten your landscape in every season. Adding crimson hues will give a bold statement to your garden as it draws attention to certain focal points and pairs well with most colors. Read about some of my favorite, most beautiful red flowers to grow in each season below.
Red Spring Flowers
As the winter comes to an end, vibrant flowers are always a first sign of spring. Add some extra brightness to your garden this upcoming season with these popular red flowers.
Tulips
Always a first sign of spring, tulips are associated with cheerfulness and rebirth. Their classic cup-shaped bloom adds a perfect touch to any bouquet. When caring for this red flower, be sure not to water your tulip bed. They fair best in partial shade and well-drained soil.
Poppies
Poppies are a classic spring flower, with their textured petals and vibrant hues. These perennials can be planted from seed or transplanted into well-drained soil. These red flowers are a perfect choice for attracting pollinators and grow best in full-sun.
Sweet Peas
Blooming in a variety of colors, sweet peas are a great option for gardeners looking to add some trellised flowers to their gardens. These delicate annuals are a perfect for a woodland garden, requiring cool, moist soil conditions for optimal growth. Sow seeds directly in late winter or early spring.
Begonias
These large showy blooms can add a sophisticated flair to any garden. Traditionally associated with royalty, begonias are a perfect option for lining pathways or filling empty spots in your garden. Plant these tubers in well-drained soil, with partial shade and be sure to water regularly.
Hyacinths
These clustering flowers bloom early in the spring from a bulb. Though their colors range, the red petals are a bright, pinkish hue that adds a cheerful touch to any garden. Plant in partial sun and well-drained soil.
Primroses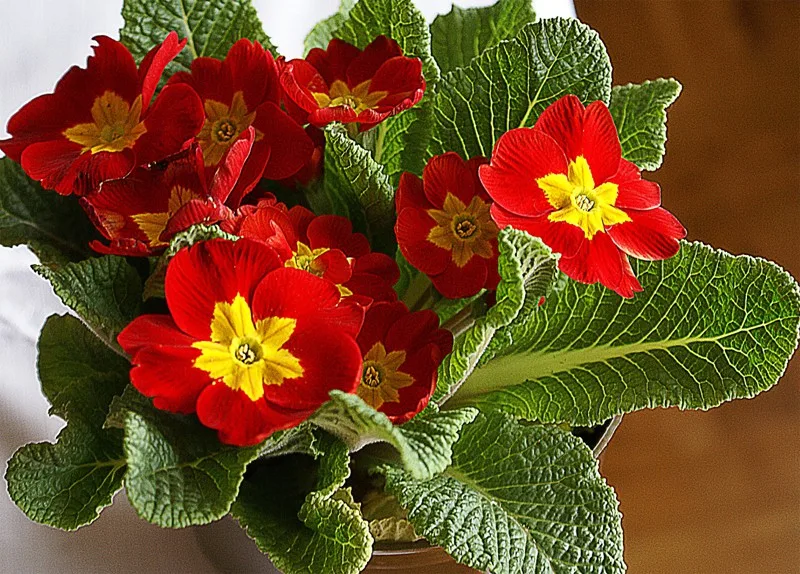 These perennial flowers are a great choice for garden beds and borders. Blooming in early spring, these hardy blooms often last through the summer. Plant from seed in lightly shaded areas rich in organic soil.
Red Summer Flowers
With rising temperatures in the summer months, there are endless flower varieties to choose from for your garden. Here are some of my favorites choices for red flowers to grow in the summer.
Related: red flowering shrubs
 Marigolds
These annual flowers bloom all season long, with a variety of red and gold hues to choose from. Known for their ruffled petals, marigolds are a natural insect repellent, and can keep some of the most persistent pests out of your garden. Plant in areas with full sun and be sure to give them plenty of water.
Sunflowers
Most people think of giant yellow sunflowers as a sign of summer, but these flowers come in many shades of red too! Many varieties can grow up to 15 feet tall, with faces over 1 foot wide. Be sure to plant in full sun with plenty of water. Sow seeds directly for late summer blooms.
Cosmos
Don't let the dainty appearance of these flowers fool you! Cosmos are very hardy, drought-tolerant flowers, requiring little soil preparation. Sow seeds lightly or transplant after danger of frost has passed.
Zinnias
These bright annual flowers are one of my favorites for the summer season, adding bold colors to any garden. Zinnias grow best from seed, sown directly after danger of frost has passed. Though adaptable, these flowers prefer organically rich, well drained soil and sunny locations.
Dahlias
These round, spiky blooms are perfect for growing throughout the summer. As a tuber, dahlias can be planted in spring, with some varieties growing to five feet tall. Wait to plant until danger of frost has passed as these flowers do not like cold weather. Choose a well-drained, organically rich part of your garden for planting.
Red Fall Flowers
Red flowers are a perfect compliment to the deep earth tones of the fall season. Each of these cold hardy blooms are a great choice for your autumn garden:
Chrysanthemums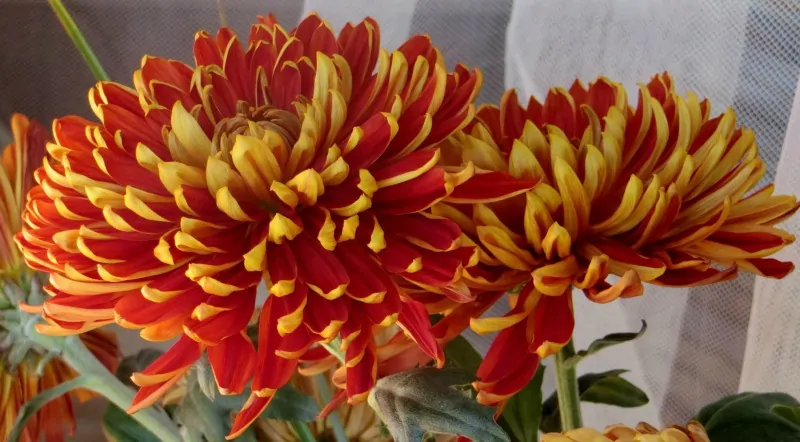 Always a sign of fall, chrysanthemums are great for any garden with their warm, autumn hues. As most flowers have ended their season, these flowers are known for their coldy hardiness. Blooming as late as October, "mums" require little care and grow best in well-drained, sunny locations.
Celosias
These feather-shaped flowers add a bright contrast to any fall garden. Celosia are annual flowers and can be planted from seed or starts. Choose a well-drained, sunny location and wait to plant until mid summer, when temperatures are high.
Asters
Asters are daisy-like flowers that bloom in late summer to early fall. They grow in a variety of bright colors, attracting many pollinators. Asters prefer well-drained, moist soil and grow best in cooler climates.
Heleniums
These fire-colored blooms add a warm accent to any garden. With many varieties to choose from, some cultivars grow several feet tall, making them a versatile option for most garden locations. Plant in full sun and well-drained soil, making sure to water regularly.
Yarrows
This hardy perennial is known for its showy clusters of flowers and herbal healing properties. A drought tolerant flower, yarrow grows in most soil types, keeping its blooms until mid fall. Sow seeds directly in a sunny location and be sure not to over-water. Yarrow grows best in hot and dry conditions.
Red Winter Flowers
Bright red tones are always associated with the festive spirit of the winter season. Though most plants are dormant during this time, there are a few red flowers that grow best during this chilly time of year:
Witch hazel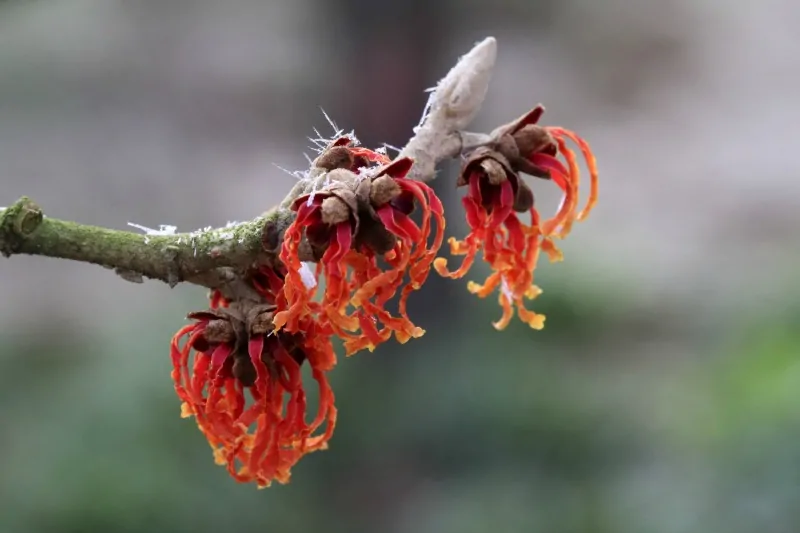 Technically a shrub, witch hazel flowers in the winter in many shades of red. This deciduous plant actually requires a winter chill to get its blooms. Witch hazel thrives in rich soils and sunny locations. Make sure to water throughout the summer, mulching to retain moisture if necessary.
Heathers
This evergreen shrub is a great option for rock gardens or path borders in your winter garden. With flowers blooming from late July to November, Heather is one of the few flowering plants that grows well in acidic, sandy soil. It can be planted anytime the ground is not frozen, and requires little maintenance.
Poinsettias
These jovial red flowers are a symbol of holiday celebration. Known as the "Christmas Star", poinsettias can be kept alive year-round indoors and do well in slightly-acidic, well drained soil. Once the danger of frost has passed, find a sunny spot in your garden to plant. Make sure to water regularly and prune if your poinsettia is growing to be too tall or leggy.
Carnations
These fringed perennial blooms are a symbol of admiration and affection. One of the easiest flowers to grow, carnations can winterized in late fall to prepare for the cold winter months in certain climates.
Roses
Arguably the most popular red flower, red roses are always a symbol of love and passion. With many varieties able to grow year-round, these fragrant blooms will add a romantic touch to your garden. To prepare for winter, continue to water as temperatures drop and be sure to mulch after a few frosts but before the ground freezes.
Love roses? Here are 40 pictures of roses you'll love!
Flowers can bring joy and cheerfulness any time of year and will always bring a vibrant touch to your garden. Choosing to incorporate red flowers into your landscape conveys a message of love and is sure to catch the eye of your visitors. When planning your garden this year, add some warmth and vibrancy to your garden by growing red flowers in every season.